Documentary History of American Water-works
Tuscarora, Pennsylvania

Tuscarora is a census-designated place in Schuylkill Township in Schuylkill County.
The Tuscarora Water Company was incorporated in 1856 with Alexander Silliman, Henry F. Haas, Henry Kepner, George Regan, Cornelius Stevenson, Jacob Alter, Edward Owen Parry, John C. Bullett, and John S. Struthers appointed as commissioners to sell stock to "proceed to bring and convey into the town of Tuscarora, by means of pipes, trunks, aqueducts, or other means, some spring or stream of water from the neighborhood of the said town." The company advertised to sell stock, as shown below, but no other evidence has been found that they built anything.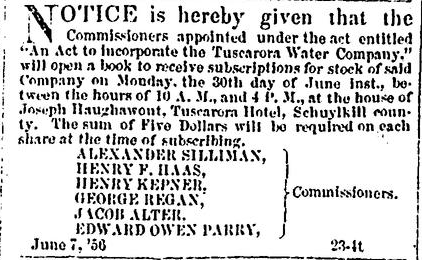 Weekly Miner's Journal (Pottsville, Pennsylvania),
June 14, 1856, Page 2.
The Moss Glen Water Company was incorporated on April 14, 1905 to supply water in Schuylkill Township, which was purchased from the Silver Creek Water Company. Residents of Tuscarora sought to force the Moss Creek company to extend their mains to serve their community, and the Pennsylvania Public Service Commission agreed and ordered the company to do so in 1922. The Silver Creek Water Company bought the Moses Creek Water Company (and several others) in 1931. Blythe Township (adjacent to the west boundary of Schuylkill Township) formed a municipal water authority on February 9, 1943 and acquired most of the assets of the Silver Creek Water Company in January, 1945, including the water service to Tuscarora.
Water is provided by the Blythe Township Water Authority.
References
1856 An act to incorporate the Tuscarora Water Company, at Tuscarora, in the county of Schuylkill. February 11, 1856.
1922 Residents of the Village of Tuscarora v. Moss Glen Water Company, August 31, 1922, Pennsylvania Public Service Commission
Maps of Schuylkill County Townships
© 2017 Morris A. Pierce